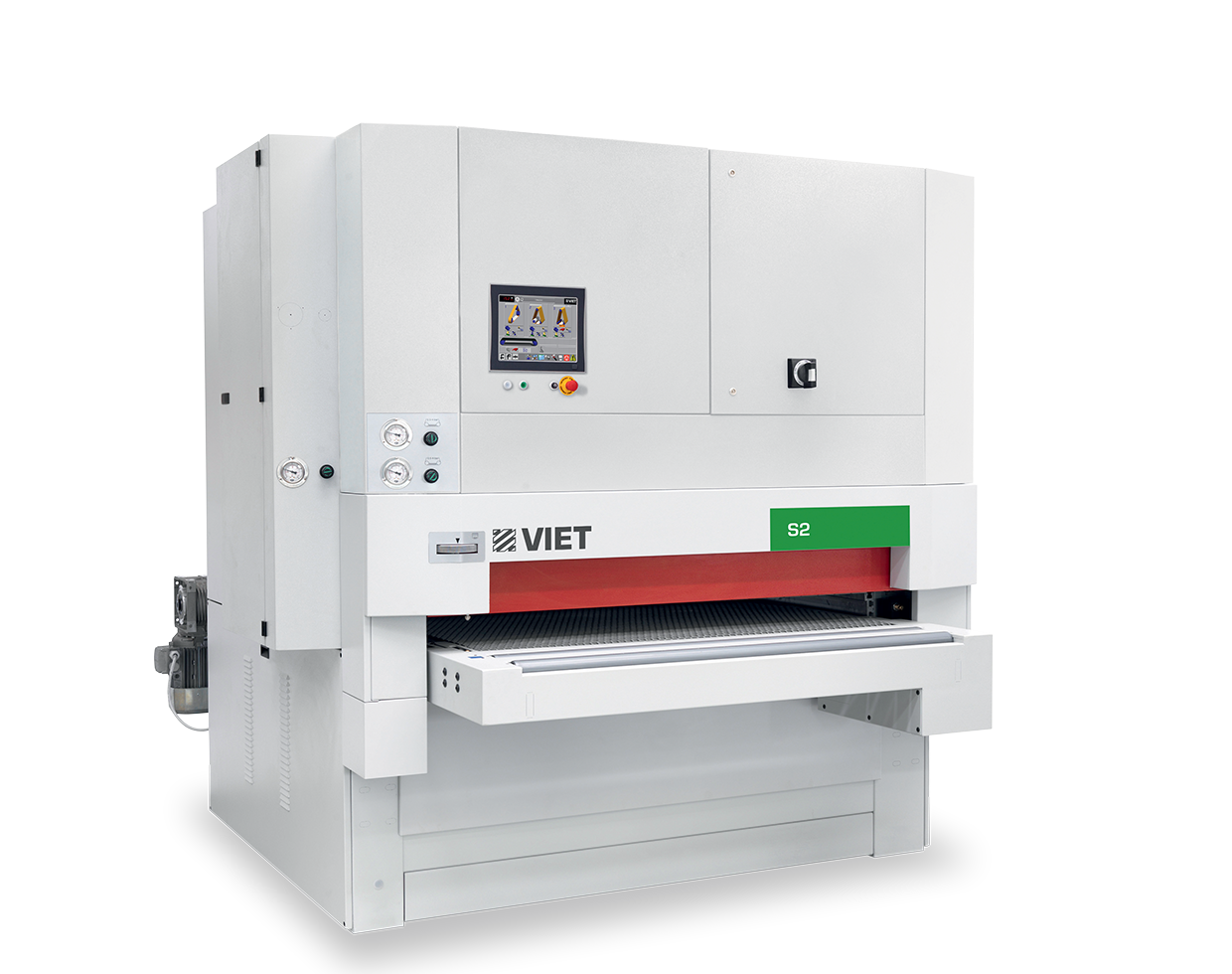 | | | | |
| --- | --- | --- | --- |
| SPECIFICATIONS | | S2 (1100) | S2 (1350) |
| | | | |
| --- | --- | --- | --- |
| A | mm | 1760 | 2010 |
| B | mm | 2870 | 2870 |
| C max (2200 production) | mm | 2235 | 2235 |
| C max (2620 production) | mm | 2445 | 2445 |
| Maximum operating width | mm | 1100 | 1350 |
| Min-max processing thickness | mm | 3 – 160 | 3 – 160 |
| Dimensions of sanding belts (2200 production) | mm | 1130 x 2200 | 1380 x 2200 |
| Dimensions of sanding belts (2620 production) | mm | 1130 x 2620 | 1380 x 2620 |
| Cross-sanding belt dimensions | mm | 150 x 5520 | 150 x 5520 |
| Advance speed | m/min | 3 – 16 | 3 – 16 |
| Operating pressure | bar | 6 | 6 |
| Weight | Kg | 2880 | 3020 |
| Motor power of up to | kW | 18.5 | 18.5 |
BIESSE S2 calibrating sanding machine with technological solutions that can be customised according to manufacturing requirements, delivering superb product quality and increased productivity.

S2 is the calibrating sanding machine that offers superior levels of performance with a modest investment. Ideal for small and medium-sized businesses, the S2 ensures maximum reliability and precision, derived from the experience gleaned from higher-end machines.
The

Roller unit

is extremely precise and effective. Depending on the hardness of the rubber used and the roller's cross-section, the unit can be used to calibrate, sand or finish.

Can accommodate up to 3 working units, ensuring high finish quality across all products and superb machining flexibility.

For calibration operations, the machine can be equipped with 190 or 240 mm cross-section 90 Sh steel or rubber rollers, fitted with 25 Hp motors.

The

compact cross unit

is the ideal solution for complex machining operations on veneered panels, even with glues and junction papers, responding to transverse levelling and finish requirements, whilst occupying a small footprint.

The

rotating blower,

 positioned downstream of the machine, enables optimal cleaning of the panel's surface at the end of the sanding cycle.