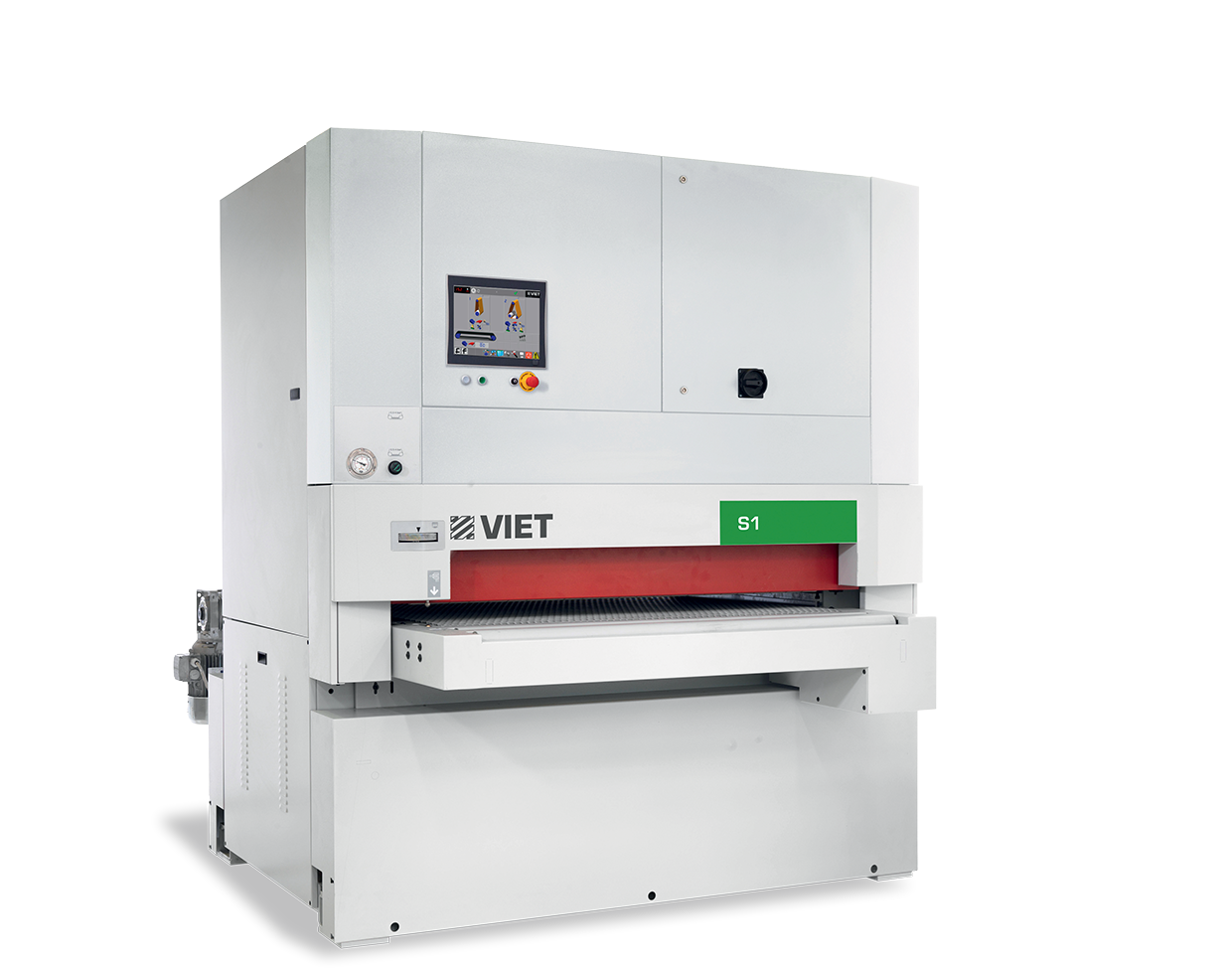 | | | | |
| --- | --- | --- | --- |
| SPECIFICATIONS | | S1 (1100) | S1 (1350) |
| | | | |
| --- | --- | --- | --- |
| A | mm | 1760 | 2010 |
| B | mm | 2235 | 2235 |
| C max (2200 production) | mm | 2235 | 2235 |
| C max (2620 production) | mm | 2445 | 2445 |
| Maximum operating width | mm | 1100 | 1350 |
| Min-max processing thickness | mm | 3 – 160 | 3 – 160 |
| Dimensions of sanding belts (2200 production) | mm | 1130 x 2200 | 1380 x 2200 |
| Dimensions of sanding belts (2620 production) | mm | 1130 x 2620 | 1380 x 2620 |
| Advance speed | m/min | 3 – 16 | 3 – 16 |
| Operating pressure | bar | 6 | 6 |
| Weight | Kg | 2350 | 2690 |
| Motor power of up to | kW | 18.5 | 18.5 |
BIESSE S1 Calibrating Sanding Machine with technology solutions that can be customised depending on manufacturing requirements and deliver high finished product quality and productivity.

S1 is the calibrating and sanding solution that combines high-performance standards with reduced working dimensions. Ideal for small and medium-sized businesses, the S1 ensures maximum reliability and precision, derived from the experience gleaned from higher-end machines.
The robust and stable structure of the S1 ensures precision and reliability.

Can accommodate up to 2 working units, ensuring high finish quality across all products and superb machining flexibility.

The

panel cleaning brush

can be fitted with bristles of different materials to deep clean the machined panels.

For calibration operations, the machine can be equipped with 190 or 240 mm cross-section steel or 20-90 shore rubber rollers, fitted with 25 Hp motors.

The

anti-static bar

eliminates electrostatic charges on painted panels.